This week a podcast went viral featuring Atlanta based rapper and married but still trolloping, T.I.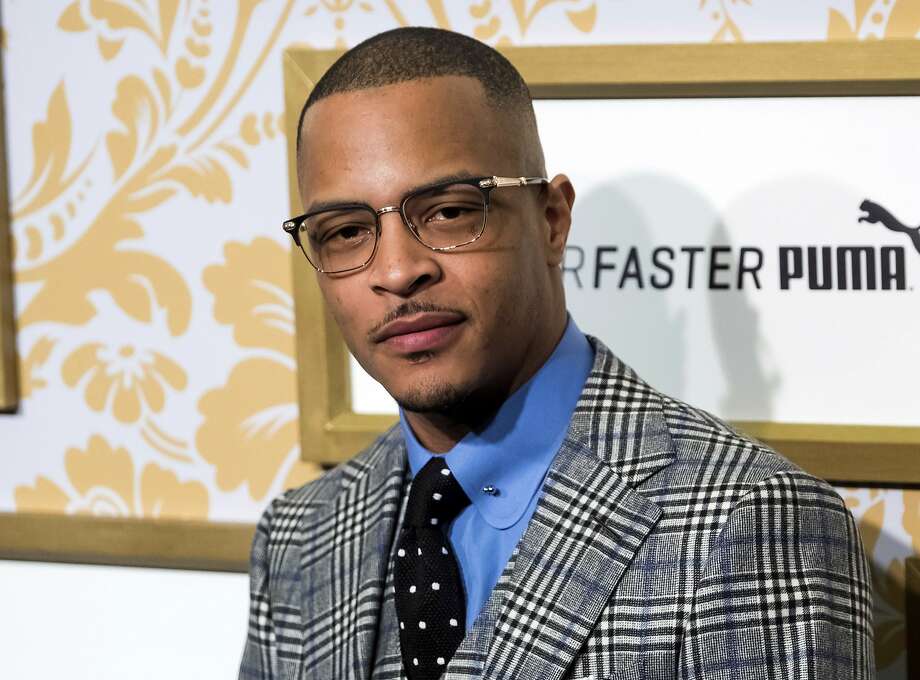 T.I. revealed that he annually accompanies his now 18 year old daughter to the gynecologist. He went on to say that he does so for the purpose of confirming her virginity by having the doctor check to see if her hymen was still intact.
Say what now?
Can I say that this dust bucket, who habitually cheats on his wife, is so problematic that it makes me feel like I need to lie down.
Sure, I'm down with encouraging your kid to delay sexual activity, but a hymen check? A hymen? Something I probably busted that time in 5th grade when I borrowed a neighborhood boy's bike and hopped off without gently leaning it to the side? Something that could actually be broken during a gynecological exam?
O.
M.
G.
I mean there's this young woman's agency and autonomy to consider as well. And the hypocrisy of this man…I mean, I guess if he's trying to protect his daughter from dudes like him, but really?
It made me reflect on the many conversations about sex and intimacy I had with Hope over the years and how different it was from how my parents were with me.
I was raised in a religious home; sex before marriage was a bad thing, forgivable, but you know, don't do it. I knew lots of other teens who were sexually active and who even had children while were in high school. I messed around, but just avoided having sex until I was in college. I was so devoted to my studies and my goals that I thought having sex and possibly risking pregnancy was too great of a risk to my goals, so I was reserved. When I got with a long term boyfriend, I got on birth control and was on my way. I did feel some religious guilt; I did wonder whether the Holy Homeboy would punish me. I got over it.
My parents really didn't talk about sex with me, not directly anyway. In my teens I wished it wasn't such a taboo questions, but I ended up getting my answers from the more experienced kids. I think my parents did their best; I'm not disappointed in them. I turned out just fine, normal even. That said, when Hope came into my life, I resolved to do things differently.
Child sexual abuse is a serious public health problem. According to the Rape, Abuse & Incest National Network (RAINN), every 9 minutes child protective services find evidence and/or substantiates a claim of child sexual abuse. Every 9 minutes! NINE! And foster children are especially vulnerable; they are 4x more likely to be abused. This doesn't even take into consideration that some children are removed due to sexual abuse.
I considered this as I set about trying to talk to Hope about sex and sexuality. I've written about some of this before, but I don't think I really covered my philosophy, which really is about sex positivity.
Given that Hope was so vulnerable, I wanted to put her on a track that would make sex safe for her. I wanted her to feel like she, and only she, had control over her body. I wanted her to feel like she had control over the decisions around what she did with her body. I wanted her to feel like she had good information and was capable of making good decisions about her body. I wanted her to know that her feelings and curiosity were normal. I wanted her to know how to extricate herself from risky situations.
I didn't want her to be completely bound by religious constraints about morality. I didn't want her to be forced to do anything she didn't want to do. I wanted her to know how to care for herself and her needs. I also wanted her to know that when she was ready, sex could be fun, could feel good, could be bonding with the right person and could be beautiful.
I wanted my daughter to be and feel free, strong and empowered.
So, I started following a few accounts around social media like @Sexpostive_families and hashtags like #sexpositivity. I learned a lot about my own hang ups too. #bonus I thought a lot about how to foster open dialogue with Hope—sometimes that wasn't so comfortable. I knew I had achieved the goal when she started asking me about condoms in the middle of school shopping at Target one Saturday afternoon (ERRRBODY got schooled that day). I held fast to a rule that whenever, whatever she wanted to discuss about sex, sexuality and relationships I would stop what I was doing and engage. I strategically shared bits of my own history, hang ups and times when I really felt like I made good or bad decisions. I did whatever I could to normalize conversations about sex.
I did talk about morality, but I also talked about maturity and personal responsibility. I talked about pain and pleasure, how body parts worked and could create either. I talked about sexual violence. I talked about all the awful persuasive lines I've heard in my day from would-be partners trying to get me in the sack. I talked about the walk of shame and the morning after pill. I talked about contraception and I talked about abortion (and being definitively pro-choice). We talked about straight sex, gay sex, oral, anal, digital, you name it, we talked about a lot of it. I did quite a bit of research on my "incognito" browser.
There were times early on when I was really, really uncomfortable having these conversations. There was one conversation that started shortly after we got in the car that resulted in me detouring to the beltway and driving us the 66 miles all the way around just so we could finish the conversation in the car bubble. It got easier with time; I learned to practice what I preached. Hope seemed shocked that I was willing to talk about everything, and then she started asking me questions in Target.
I answered her questions and the questions of her "friends," some of whom I'm not really sure existed.
And you know what? Hope is strong and knowledgeable and has said she's just not ready to take all that on.
Good, that was still my goal: an informed decision not to have sex until she's ready.
She feels good about her decision; she finally feels like she has some control over her life and her body. Foster care had really ruined her sense of agency and autonomy. She feels like she has control now; she knows she has choices. She's got good info and knows how to access resources.
Sex positive parenting requires vigilance; the heavy morality messaging can be pervasive and I firmly believe that it's problematic for our foster and adoptive kids. Folks are easy to say, "just teach your kids 'good' morals." I respect the position, but I believe that Hope needs good information and agency more than just good morals.
This year at her private boarding school, "family life education" was offered. I found out they contracted an anti-abortion organization to do the training thanks to some internet research, and I asked to see the curriculum. It was heavy on sexual morality and religion. There was no space for kids who might identify as something other than straight. It never considered that any of the students might have a history of sexual abuse; it wasn't trauma informed. It showed awful anti-abortion pictures to students. It promoted adoption as a way out for girls who "got in trouble" while kind of absolving the boys from their contributions. #canwesaypatriarchy?
In all, the message was if you don't buy into this, you're probably headed for hell.
I immediately called to pull Hope out of the course, then I had a nice long confab with the headmaster. The least they can do is promote an inclusive, trauma informed curriculum. I told Hope that the curriculum was not consistent with what I believe and think she should know about sex and sexuality. She trusted me, even though she was the only student pulled out of the program. It was important to me that she not get that messaging and that she know that I was still her champion and advocate. (That curriculum was criminal as far as I was concerned. Let's say it was an interesting discussion with the headmaster.)
As we prepared for Hope to leave for college this summer, I broached the subject of birth control. I told her that the intensity of going to a new school with so much freedom, so many options and some boring blocks of time (boredom can be a ridiculous aphrodisiac when you have nothing else to do, and sex is a free activity) that she might change her mind. I doubt that she will, but I wanted to emphasize the need to be prepared—hunting for contraception later is less likely to happen and "hoping" to not catch an STD or get pregnant isn't a strategy. So, off to the midwife practice we went. I briefed the nurse and sat outside and waited for Hope to conduct her grown woman business.
I didn't ask for a hymen check. I didn't because it isn't my business and because what would it really tell me anyway? My kid actually has drunk texted me from college (don't ask)—I'm guessing if and when she decides to become active, she probably will sit on the info briefly before sharing it.
Yeah, I'm guessing she'll tell me; she seriously tells me everything.
No, I don't want to know. I honestly don't want to think too much about it.
But in creating the open space for sex positive discussions Hope trusts me not to judge her; she knows that I will love her anyway. Hope knows that I will believe in her informed decision-making. She knows that I'll still be there no matter what happens.
So, yeah, Hope and I have had a lot of sex chats. I believe that our kids, foster, adopted and everybody else, should get a good solid education about sex without messaging that condemns them. I never wanted anything in Hope's past to be conflated with a healthy, enjoyable, positive sex life later.
I feel good my decision to take this approach. I feel confident that I've done what I can to set her up for good decisions about her body.
So, what's your approach? Does this sound radical? Heretical?
Worked for us!