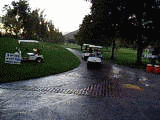 We seem to have really, genuinely turned the corner at Casa d'ABM! I lowkey had kinda lost hope that we would ever get back to some semblence of normalcy around here after so much drama this year.
And yet we have.
After so many months of festering anger, bickering, fighting, crying and so much more, Hope and I are clawing our way to our version of normal. And it feels so good.
You barely remember how gloriously boring normal is unless you've been mired in conflict for so long. I finally feel like I can breathe.
It's been a few weeks since Hope finally seemed to emotionally regulate. I'm not fooling myself into believing all the angsty, emotional feelings are gone, but it seems she has a much better handle on things these days.
In fact, she recently decided to try out some medication. She hasn't agreed to therapy yet, but I'm totally gassed up that she was able to decide that she needed some help through medication. I am optimistic that a return to therapy will happen in time.
Moving out has been removed from the discussion now. She's not ready, not to mention she's still unemployed. The skill set just isn't there yet. She's also been able to better articulate what's overwhelming her. What I'm trying to say is, I finally see effort from her. That effort is allowing me to stretch a lot more than I've been willing to in recent months.
It also means I'm able to make some holiday decisions and move forward with other plans I need to make about 2023. These last few months just made me feel trapped with respect to planning things for next year. I finally feel like I can plan without upsetting her in ways that will set us back.
The big lesson learned: connection. It always comes back to connection. More than anything, Hope wants to feel connected and accepted as she is. I know that there will be more boundary pushing, but I think I'm a bit better equipped to handle it now.
My biggest hope for 2023 at this point is for Hope to fully embrace needing help with some things, that neither of us feel trapped in a toxic cycle, and that we will continue to work to be our version of normal and something akin to happy.
That still feels like a lot to hope for. The pain and trauma of this year are real, and my heart still hurts a lot. But I do have hope for the direction we're headed in. And for now, that's a good thing.